Discover more from So It Goes
Popular Music, Present and Past
Over 1,000 subscribers
Rolling Stone 500 Greatest Albums: Say Goodnight to the Rock & Roll Era
My Rolling Stone 500 Ballot and why I didn't vote for Beatles, Stones, Dylan, etc.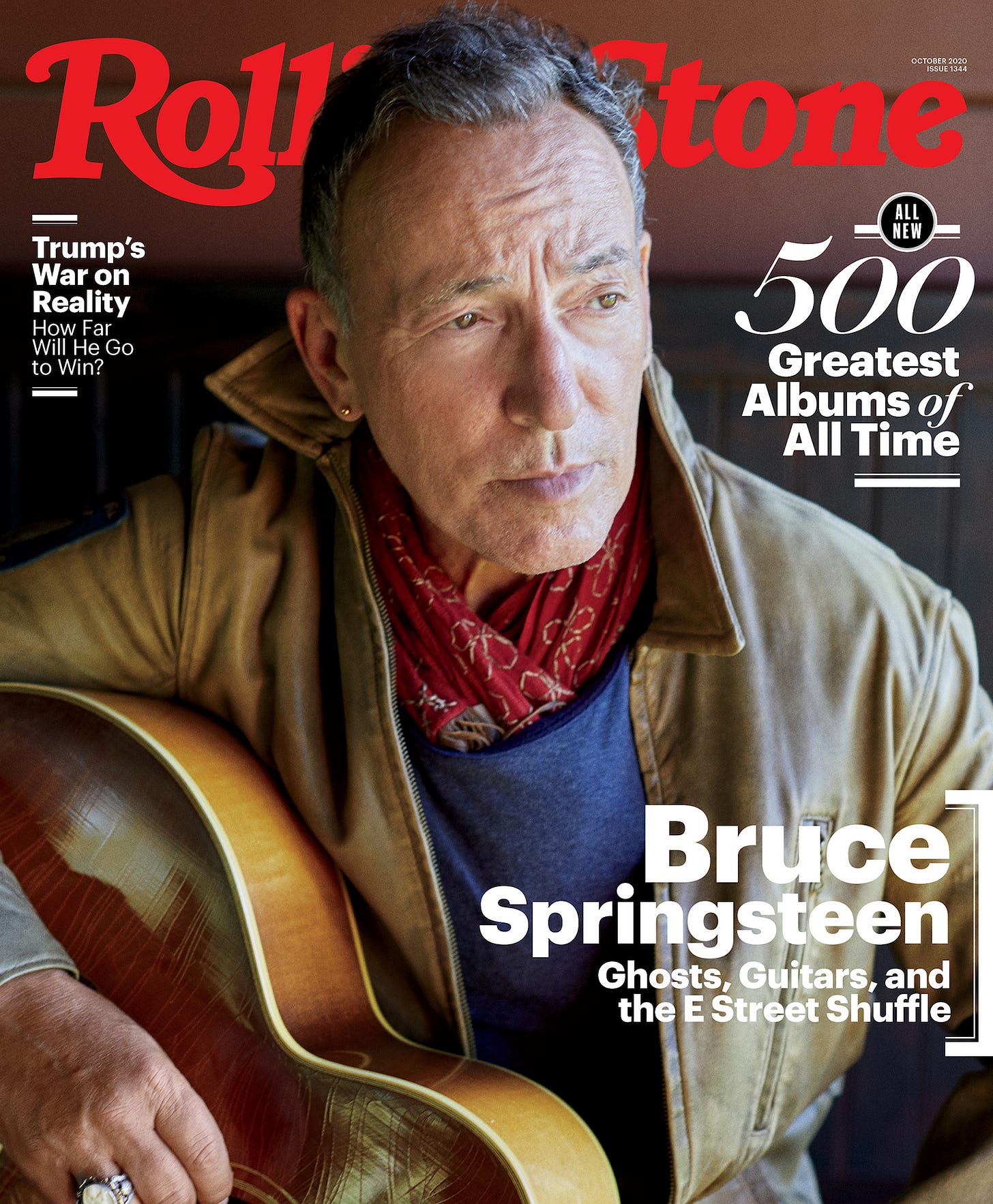 Back in 1987, Rolling Stone published a series of 20th Anniversary issues, all chronicling highlights of the past two decades—twenty years which just happened to coincide with the peak of the rock & roll era, the time when it moved from the underground into the mainstream. Of these issues, the one with the greatest influence—at least for me, although friends and colleagues of the same demographic assure me they share a similar opinion—is the August 27, 1987 issue compiling the "100 Best Albums of the Last Twenty Years," a de facto guide to pop music history that was much more recent than it seemed at the time. 
Thirty-three years later, Rolling Stone published a new list chronicling the Top 500 Albums of All-Time this September, an update/revision of the 2012 list of the same name which itself was a sequel to the original 2003 list, which was the publication's first attempt at decade-spanning canon-making since 1997's The Rolling Stone 200: The Essential Rock Collection. One of the distinguishing elements of this new list is that this is a critics poll, a feature that distinguishes it from at least the 1987 list, which was assembled by an in-house editorial team.
Rolling Stone asked me to participate in this year's project, a request I accepted without hesitation. I was happy to be part of a project that stretched back to the original 1987 issue that was so important to me as a teenager. As I began to assemble my ballot of 50 albums, I came to the quick realization that my decades of listening, list-making, and reading have drastically changed how I view lists and canons. I no longer think of them as some definitive word being passed down from on high or some definitive historical document but rather a reflection of how the pop music community views the past. 
Looking at the new Rolling Stone list of 500 Greatest Albums, it's striking to see how the times have changed. The most obvious seismic shock is how Sgt. Peppers Lonely Hearts Club Band is no longer the Citizen Kane of pop. It's been dethroned from the top spot, pushed all the way to number 24, with Marvin Gaye's What's Going On taking its slot. What's Going On has been floating in Rolling Stone's Top 10 since 1987, the same year where it made it into the Top Five on The World Critics List masterminded by Paul Gambaccini. In other words, What's Going On has been acknowledged as a consensus classic for decades, so it's not shocking to see it at the top of the list. The shocks arrive within the guts of the poll, where it becomes clear that the rock & roll era has come to an end. 
Sure, there are plenty of rock records on the list, starting with Nirvana's Nevermind at six, but dig a little deeper, it's evident that anything loud, raw, and noisy is on the out of fashion. It's also clear that records released prior to 1970 are drifting toward the history books: they're not platters for pleasure but prerequisites for understanding the modern era. There are some exceptions to the rule but they're often albums by acts that either are marketed into ubiquity (Beatles, Stones, Zeppelin; the kind of band whose shirt is sold at Target) or are exemplars of their genre (Miles Davis, Aretha Franklin, Frank Sinatra, Robert Johnson, etc.). The highest-ranking pre-1970 LP is the Beach Boys' Pet Sounds, which long has benefitted its mythos that it was an album too visionary and beautiful for its time (despite the fact that it had two Top Ten hit singles and went into the Billboard Top Ten itself). 
Pet Sounds is also pointedly not a rock & roll record; it's as far from the sound of four or five musicians banging away at a handful of chords in a small room as can be imagined. It's an album born of the studio and, in that sense, it points the way to so many of the key records to come, whether it's Sgt. Pepper, What's Going On, or Rumours. It's an also album whose mystique is inextricably tied to how its the vision of one musician, not a collective, an idea that fuels a lot of modern music--even music made by a team of studio rats and fronted by a singer. Pet Sounds proved prescient on these and several other fronts but it's not quite an album that crystalizes the sound, feel, and aesthetic of the 1960s; indeed, it's often celebrated for how it cut against the grain of the time. 
One thing is clear: Pet Sounds is not part of classic rock culture, the album-oriented radio format, and audience that sustained the sound and style of the late '60s and 1970s into the early years of the 21st Century. Classic rock still has a significant presence in the 2020 list but classic rock dominated every previous incarnation of the Rolling Stone Greatest Albums lists, especially if its umbrella widens to include such '70s icons as Jackson Browne and Warren Zevon—singer/songwriters who may not feature on current classic rock playlists but certainly were fixtures of album rock in their heyday. The album rock and singer/songwriters of the 1970s grew out of blues-rock, British Invasion pop and folk-rock of the 1960s, the punk, new wave, and college rock of the late '70s and 1980s were equal parts reactions and growth to all these sounds, '90s alternative rock continued and commented upon all of this and all these styles and eras have one thing in common: they've faded as a force on the Rolling Stone list.
Part of this is surely deliberate on the part of both the voters and the editors, who are quite aware of shifting pop landscapes and projects such as NPR's Turning The Tables, which built a classic albums canon around women. But a lot of the change is due to the simple act of time marching forward. Nevermind, the highest-charting rock record (unless Abbey Road counts, which it could), celebrates its thirtieth anniversary next year, the same year the Strokes' Is This It (114) and Wilco's Yankee Hotel Foxtrot (225) will turn twenty. If you have an expansive definition of rock, one encompassing everything from indie to Americana, it's last robust year was 2013, when Vampire Weekend's Modern Vampires of the City (328), Arctic Monkeys' AM (346), and Jason Isbell's Southeastern (458) all were released. Far from being at the center of culture, rock is in the rearview and receding. 
Looking back at my ballot, I played a part in moving this scenario forward. I believe this is a reflection of the ubiquity of lists over the last decade as well as my awareness of how they work. Some of this knowledge was gained through participation in such polls as Pazz & Jop and The Nashville Scene's Country Music Poll, some of it was gained as a reader, but it all pushed me to the same inclusion: a ballot should be seen as advocacy. Since the end result of critics polls helps establish a canon, it's easy to approach a ballot with the idea that it should be a list assessing influence and importance. That's a perfectly valid approach, one that I followed for years. As I've gotten older, I've veered away from choosing albums for their "importance," coming to believe it's a somewhat nebulous term. I now gravitate toward albums that still seem to offer a complete experience, either as a collection of songs or as a recording. From there, I try to balance styles, genres, and eras, among other representation considerations. I don't like to contain more than one record from an artist, either, otherwise a list an all-time-list runs the risk of being overrun by Elvis, Beatles, and the Rolling Stones.
Even limiting myself to one album apiece from an artist, I felt like my ballot was weighted too heavily toward the usual suspects, so I did something radical (at least for me): I decided not to include the Beatles, the Rolling Stones, or Bob Dylan, artists that I love but who have more than their share of support among any group of music critics. I did keep Elvis Presley on my list, under the assumption that he might need a boost, that he might be seen as a historical figure, not somebody whose albums still provide pleasure. I was right on that count. I was also right that the Beatles, Stones, Dylan, and several other icons didn't need my support in order to chart, but I didn't realize that other critics would leave these titans off their ballot, either for reasons of advocacy or taste. Because they did, we have a 500 Greatest Albums List where it's possible to see the times changing. While it may be jarring to see very few titles (or none at all) by Elvis Costello, the Replacements, Cheap Trick, or ZZ Top on this list (not to mention a considerable softening of support for U2), it's fascinating to see tastes shift in real time.
So, here's the ballot I submitted to Rolling Stone this past spring. As with all lists, it's nothing but a snapshot of how I felt at a particular point in time, I would likely swap and resequence if given a chance. This past spring, I was not of the opinion that compilations should be selected unless they were original greatest hits collections—a rule I broke with the selection of The Great Twenty Eight, so who knows if I'd follow it today.
1. Beastie Boys—Paul's Boutique
2. Elvis Presley—From Elvis in Memphis
3. Steely Dan—Gaucho
4. Waylon Jennings—Honky Tonk Heroes
5. Liz Phair—Exile in Guyville
6. Chuck Berry—The Great Twenty Eight
7. Merle Haggard—Serving 190 Proof
8. Little Feat—Waiting for Columbus
9. Nick Lowe—Jesus of Cool
10. Todd Rundgren—Something/Anything
11. Blur—Parklife
12. Jerry Lee Lewis—Live at the Star Club
13. Prince—Sign o the Times
14. Pretenders—Pretenders
15. Frank Sinatra—Watertown
16. Sir Douglas Quintet—Mendocino
17. The Clash—Give Em Enough Rope
18. Randy Newman—12 Songs
19. Public Enemy—It Takes A Nation Of Millions To Hold Us Back
20. James Brown—Live at the Apollo
21. Rod Stewart—Every Picture Tells A Story
22. The Who—Sell Out
23. Pulp—Different Class
24. Creedence Clearwater Revival—Willy & The Poor Boys
25. Pistol Annies—Hell On Heels
26. Pavement—Wowee Zowee
27. The Kinks—Village Green Preservation Society
28. Television—Marquee Moon
29. REM—Reckoning
30. The Strokes—Is This It
31. Eric Church—Mr. Misunderstood
32. Elastica—Elastica
33. Harry Nilsson—Nilsson Schmilsson
34. ZZ Top—Eliminator
35. Flying Burrito Brothers—Gilded Palace of Sin
36. De La Soul—3 Feet High And Rising
37. Led Zeppelin—Physical Graffiti
38. T Rex—Electric Warrior
39. The Jam—Sound Affects
40. Billy Joel—Glass Houses
41. Mott the Hoople—Mott
42. Magic Sam—West Side Soul
43. Willie Nelson—Shotgun Willie
44. Sonic Youth—Daydream Nation
45. Husker Du—New Day Rising
46. Oasis—Definitely Maybe
47. White Stripes—Elephant
48. Boz Scaggs—Silk Degrees
49. Amy Winehouse—Back To Black
50. Vampire Weekend—Vampire Weekend
While digging out this ballot, I also came across a list of titles that I short-listed but didn't place on my final entry. Some of these I might bump up today, some of these I'm not sure what I was thinking of in the first place. Either way, it's somewhat interesting to look at, so I decided to put it as part of this entry...but these albums aren't placed in preferential order, they're presented alphabetically.
Big Star—Radio City
Dave Edmunds—Repeat When Necessary
The Faces—Five Guys Walk Into A Bar
Peter Gabriel—Peter Gabriel 3 [Melting Face]
Grateful Dead—Workingsmans Dead
Guns N Roses—Appetite for Destruction
BB King—Live at the Regal
Miranda Lambert—The Weight of These Wings
Paul & Linda McCartney—Ram
Tom Petty & The Heartbreakers—Damn the Torpedoes
Jimmy Reed—At Carnegie Hall
The Smiths—The Queen Is Dead
Squeeze—Argybargy
The Stone Roses—The Stone Roses
Van Halen—Van Halen
The Velvet Underground—The Velvet Underground & Nico
XTC—Skylarking
Warren Zevon—Warren Zevon