Discover more from So It Goes
Popular Music, Present and Past
Over 1,000 subscribers
The Year That Was: Best Reissues of 2019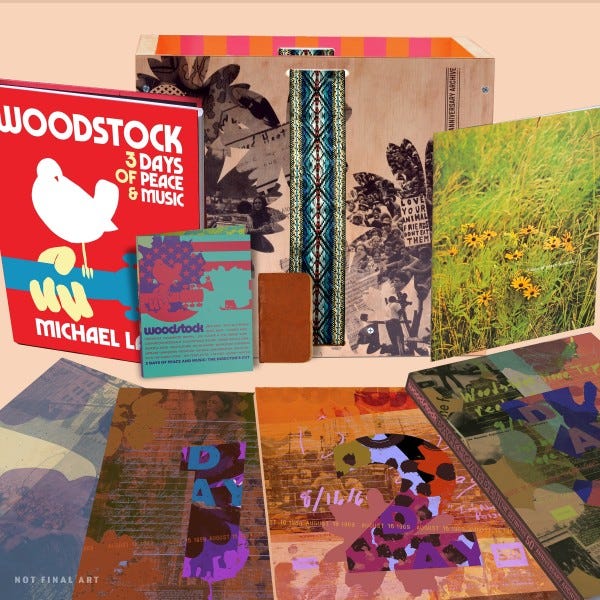 Like so many other aspects of the music business, the reissue industry appeared to be somewhat in flux during 2019. Apart from Greatest Hits albums, which have largely disappeared thanks to the rise of streaming playlists, variations of all the usual reissue suspects remain: handsome, expensive box sets, super deluxe editions of classic records, anniversary editions of beloved albums, vinyl revivals and various artists collections spotlighting certain eras, labels or scenes. There just seemed to be just a little fewer titles than in year's past. 
Some of that feeling is due to how some of the major labels aren't digging deep into their vaults, preferring to concentrate on superstars. Some of these releases paid back great dividends: the Bob Dylan Bootleg Series continues to surprise, it remains a delight that the Beatles are finally offering expanded editions of their albums, and it's a wonder that there still is terrific Elvis Presley material being unearthed in 2019. It's also true that it's likely that only a major could fund my pick for favorite/best reissue of the year, the extraordinary set Woodstock: Back To The Garden, which is a triumph of archival work and historic preservation.
In either its extensive (and limited) The Definitive 50th Anniversary Archive edition--which contains virtually the entire festival over the course of 38 CDs--or in its slimmed-down, affordable 50th Anniversary Experience edition, Woodstock: Back To The Garden reveals that commonly-held perceptions about the festival were wrong. Bands who were cut out of the 1970 Michael Wadleigh documentary are restored and often sound much better than their reputation; listen to the Creedence Clearwater Revival set, released separately by Craft, or the Band concert added as a bonus to the 50th Anniversary Super Deluxe Edition of The Band for proof. 
To me, this is what an archival release should do: it should offer a sense of discovery and surprise, challenging or offering new dimensions to an existing catalog or perhaps expanding it as well. Needless to say, it's also good if they're fun to hear, as well. Most of the following 2019 reissues hit these marks and I recommend seeking them out.
(Editor's Note: I'm well aware that a list of 100 reissues kind of undercuts my central thesis that there were fewer reissues this year, but I still stand by that assessment. There is definitely a slowing of physical reissues across the board.)
Woodstock: Back To The Garden [Archive Editon]

The Bakersfield Sound

Jobcentre Rejects: Ultra Rare New Wave Of British Heavy Metal 1978-1982

Nat King Cole—Hittin' The Ramp: The Early Years (1936-1943)

Ronnie Lane—Just for a Moment: Music 1973-1997

Stereolab Deluxe Edition Reissue Series: Transient Random-Noise Bursts With Announcements, Mars Audiac Quintet, Emperor Tomato Ketchup, Dots and Loops, Cobra and Phases Group Play Voltage In The Milky Night, Sound-Dust, Margerine Eclipse

Jon Savage's 1969-1971: Rock Dreams On 45

Once Upon A Time In Hollywood [Original Soundtrack]

Bob Dylan—Rolling Thunder Revue: The 1975 Live Recordings

Prince—1999 [Super Deluxe Edition]

Three Day Week: When The Lights Went out 1972-1975

Roger C. Reale & Rue Morgue—The Collection

The Daisy Age

The Replacements—Dead Man's Pop

Cadillac Baby's Bea & Baby Records

All the Young Droogs: 60 Juvenile Delinquent Wrecks

Peter Laughner—Peter Laughner

Bob Dylan—Travelin' Thru, 1967-1969: The Bootleg Series, Vol. 15

Elvis Presley—Live 1969

World Spirituality Classics 2: The Time For Peace Is Now

The Beatles—Abbey Road [50th Anniversary]

Mike McGear—McGear [deluxe]

Gong—Love from the Planet Gong

John Coltrane—Blue World

James Brown—Live at Home With His Bad Self

Neil Young & Stray Gators—Tuscaloosa

Chick Corea—Now He Sings, Now He Sobs

Prince—Originals

Harry Nilsson—Losst and Founnd

Across The Great Divide: Getting It Together In The Country 1968-1974

Tangerine Dream—In Search of Hades: The Virgin Recordings 1973-1979

Bill Evans—Evans in England

Land of 1000 Dances: The Rampart Records 58th Anniversary Complete Singles Collection 

Jimi Hendrix—Songs for Groovy Children

Ann Arbor Blues Festival 1969, Vols. 1 & 2

Eric Dolphy—Musical Prophet: The Expanded 1963 New York Studio Sessions

Wes Montgomery—Back on Indiana Avenue

David Bowie—Conversation Piece

R.E.M.—Monster [25thAnniversary Edition]

New Moon's In The Sky: The British Progressive Pop Sounds of 1970

Music from Jarvis Cocker's Sunday Service

Holding Things Together: The Merle Haggard Songbook

Grateful Dead—Ready Or Not

If You're Not Part Of The Solution: Soul, Politics and Spirituality in Jazz 1967-1975

Reggie Young: Session Guitar Super Star

The Kinks—Arthur (Or the Decline and Fall of the British Empire) [50th Anniversary]



The Pop Genius of Mickie Most

Grateful Dead—Saint of Circumstance

Super Furry Animals—Guerilla [20thAnniversary]

Mick Ronson—Only After Dark: The Complete Mainman Recordings

Pink Floyd—The Later Years

Marvin Gaye—You're the Man

Paul McCartney—Amoeba Gig

Gene Clark—No Other [Super Deluxe]

The Band—The Band [50th Anniversary]

American Tunes: Songs By Paul Simon

Dukes of Stratosphear—Psurroundabout Ride

The White Stripes—The White Stripes XX

Alex Chilton—From Memphis to New Orleans/Songs from Robin Hood Lane

Curtis Mayfield—Keep On Keeping On: Studio Albums 1970-1974

Soul Explosion

Mercury Rev—All Is Dream [Deluxe Edition]

Miles Davis—Rubberband

Waiting: The Van Duren Story

Steve Miller Band—Welcome to the Vault

Booker T. & The MG's—The Complete Stax Singles, Vol. 1 (1962-1967)

Pacific Northwest Fuzzbox/Pacific Northwest Stashbox

Atlanta Rhythm Section—The Polydor Years

Patrice Rushen—Remind Me: The Classic Elektra Recordings 1978-1984

Johnny Mathis—I Love My Lady

Jobcentre Rejects: Ultra Rare New Wave Of British Heavy Metal 1980-1985

Come On Let's Go! Powerpop Gems from the 70's and 80's

Mighty Baby—At A Point Between Fate And Destiny: The Complete Recordings

Creedence Clearwater Revival—Live At Woodstock

Big Star—Live on WLIR

The Electric Banana—The Complete De Wolfe Sessions

Country Music—A Film By Ken Burns: The Soundtrack

Hootie & The Blowfish—Cracked Rear View [25thAnniversary]



Linda Ronstadt—Live in Hollywood

Ray Charles—Modern Sounds In Country & Western. Music, Vol.s 1 & 2

Glen Campbell—Legacy 1961-2017

James Taylor—The Warner Bros. Albums: 1970-1976

Van Morrison—The Healing Game

Gordon Lightfoot—Complete Singles 1970-1980

Jazz Fest: The New Orleans Jazz & Heritage Festival

John Coltrane—Coltrane '58: The Prestige Recordings

Miles Davis—The Legendary Prestige Quintet Sessions

Traffic — The Studio Albums

Miles Davis—The Complete Birth Of The Cool

America—Classic Album Collection

Horn Rock

The Beatles—Singles Collection

Gerry Rafferty—Who Knows What The Day Will Bring? The Complete Transatlantic Recordings

Poppies: Assorted Finery from the First Psychedelic Age

Buck Owens & The Buckaroos—The Complete Capitol Singles: 1971-1975

Janie Fricke—It Ain't Easy: The Complete Hits

The Ramones—It's Alive [40thAnniversary Deluxe Edition]

The Doors—Soft Parade [50thAnniversary Edition]

Keith Richards—Talk Is Cheap [Deluxe Edition]

The Prime Movers—The Prime Movers Blues Band
Editor's Note: I feel like I can't rank The Prime Movers album because two of my uncles were in the band alongside a young Iggy Pop. I did want to note that a Prime Movers record has finally hit the market after a decades-long wait, since I think that's pretty cool. (I may write about this release in detail for my newsletter later.